Martial Arts For Adults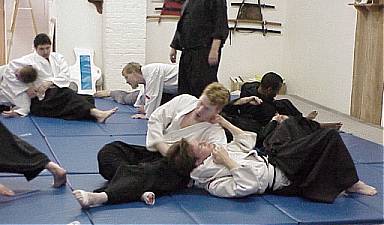 The adult classes are the focus of instruction at the Traditional Martial Arts Society. Classes are kept small to allow personalized instruction for all members.
Separate adult classes are taught in the empty hand arts, Aikijujutsu and Atemijutsu and in the weapon arts, Kenjutsu and Jojutsu. Techniques from Aikijujutsu and Atemijutsu are taught at the same time while techniques from Kenjutsu and Jojutsu, are taught on consecutive nights. See the schedule for current class times.
Adult classes are open to everyone. Novices through Black Belts are all welcome to attend.
Anyone, regardless of skill level, is welcome to come, observe the different classes, and try it before signing up.
Private instruction is also available for those looking to accellerate their learning.